A doctor and an independent curator, one by education, one by passion; Vittorio Urbani says "Basically my attitude is "caring", so giving pills, or deciding how to hang a painting – more or less – are just different forms of care. "

Based in Venice, Italy, he has been organizing contemporary exhibitions and curating art books and catalogues since 1993 as director of a non-profit organization "Nuova Icona'.  He has been invited to many different countries, including Turkey, as a curator.
Wearing too many hats, and due to his passion for arts, he has taken the responsibility with a group of friends for 'making things happen' starting with the Venice Biennial. The Venice Biennial has for over a century been one of the most prestigious cultural institutions in the world. Ever since its foundation in 1895, it has been in the avant-garde, promoting new artistic trends and organizing international events in the contemporary arts in accordance with a multi-disciplinary model, which characterizes its unique nature. Over the years, Urbani has been actively involved in the Venice biennial, in a way as a cultural attaché to different nations due to being a Commissioner for many different pavilions of the world.  We conducted an interview with Mr. Urbani about curating and the biennials.
A doctor and a curator, one by education, one by passion; which one feels like your true profession?
Both. This question always confuses me.  Couldn't a mother be also a  writer? A priest a farmer? A pharmacist a sailor? I have studied medicine; if a true profession by definition signifies what you do to earn your own bread, then medicine would be my true profession. But I have also learned "on the ground" the profession of art management and curatorship through 23 years of career.
Basically my attitude is "caring", so giving pills, or deciding how to hang a painting – more or less – are just different forms of care. But people do not like you "to wear too many hats". They lack of fantasy and always need to pigeonhole you.  And, do you know? I am a very talented gardener. Perhaps this is what I really am best at. This should be my true profession (if  I had the time!).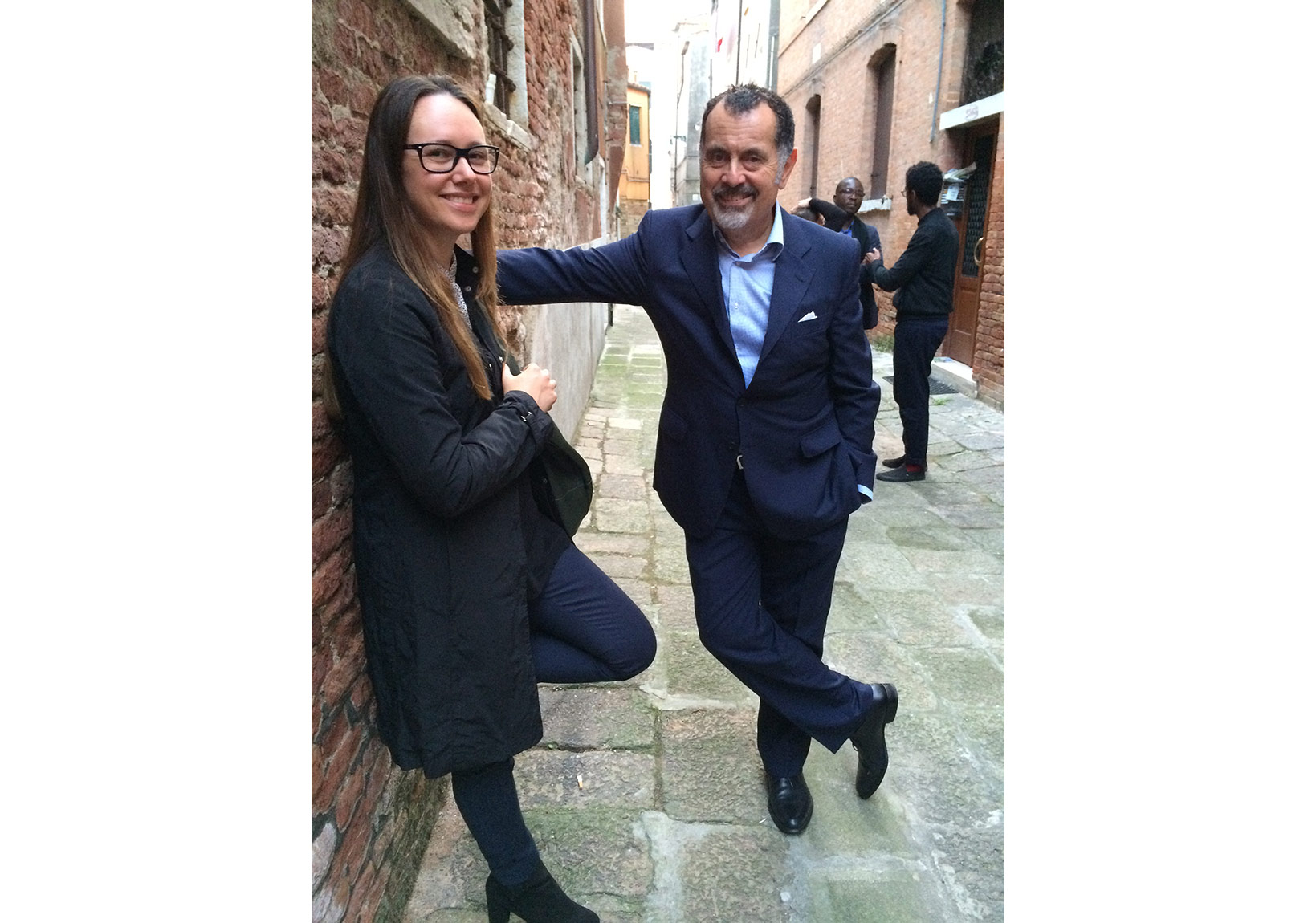 How did you decide to be involved in arts?  As a sponsor? 
Me and a group of friends  were unsatisfied by the contemporary art on view in Venice: around the year 1992, there were only a couple of good commercial galleries in Venice but they were about to close. Palazzo Grassi, which had a promising start with visionary exhibitions curated by Pontus Hulten, very soon turned to "blockbuster" exhibitions like the Phoeniceans. The Biennale was alive only during the opening week (now it is different, I must say). This was too little if you were interested to have art through your days. So, we litterally "rolled up our sleeves" and started to "make happen" what we were interested in.
And to answer your question; we do not feel like sponsors; we are producers.
Could you kindly tell us about the non-profit organisation 'Nuova Icona' that you have created in 1993 and its presence in the international art scene?
Nuova Icona was born in 1993, the first exhibition was an important solo show by the "arte povera" artist Hidetoshi Nagasawa.  He was Japanese by birth but has been living in Milano since the 70's and absorbed the feel of the vivacious art debate in Milan of the period, keeping his original Japanese "edge" and elegance. Nuova Icona was opened to be a free association of individuals, whose initial goal was to create opportunities for young artists. Later, our work became more complex, we could also commission new works to artists well advanced in their career, curate group shows travelling also internationally, organize round tables on curatorial and organizational issues and open residency opportunities for artists. Finally, a very special task Nuova Icona has performed has been to work as local manager with foreign countries during the Venice Biennale.
And its slogan 'makes things happen', how did that come about?  'To go beyond limits', what does it mean to you?
To make things happen has been our real task, acknowledged by the artists we have worked with, an honor winned on the field.  In the beginning I thought that working with artists would mean to discuss aesthetics, to study art history, etc. In fact it was a matter of finding fire trees in June (the nursery man questioning: "they are not ready!!! Everybody wants them for Christmas!"), to find last minute, affordable  accomodation during the Venice Biennale opening week (mission impossible), and even to find a consacrated space for an exhibition which needed that (in fact we rented a church). And much more!
To go beyond limits means to me to keep loyal to the project and to the artists, and often to go beyond the pre-determined financial budget!
How did you get involved as a curator?  What was your first curatorial project?
I am a bit of a workaholic.  A "doer". So I started to work with artists without questioning too much what my professional position was.  Among so many practicalities and oddities often to be confronted, I may be compared to a theatre impresario of the XIX Century ….  My title of "curator" has been later granted me by colleagues, first of all Beral Madra.
How did your involvement with the Venice Biennale start?  Could you tell us what your duties consist of as a Commissioner or a Deputy Commissioner in different pavilions that take place in the Venice Biennial each year?
That is a funny story. Back home one evening, I found a message in the answering machine, with an apparently faked English accent; it pretended to come from the Embassy of Ireland in Rome. They asked our help for the establishment of the Pavilion of Ireland, which had been absent from Venice for 20 years or so. I first thought that it may be a friend's joke, but it was real.  Later, the following Summer, the Pavilion of Ireland won the "Premio 2000" for the best artist in the whole Biennale, Kathy Prendergast. And this happened in our exhibition space. So, this is how our collaboration with the Biennale and foreing countries started. The work of commissioner (or more appropriately, co-commissioner since usually there is a commissioner from the country) is almost the same as that of a manager. We deal with the many "material" aspects which are behind an exhibition: contractors, insurance, permissions, invigilation, catering, etc.
Considering the fact that our view of the world has been shaped through culture, where would we be if we imagine that the boundaries of the world countries were less surpassable and the countries were more isolated today? 
In a way, it is surprising and deeply saddening to see how the generous XIX Century ideals of internationalism and equality among humans are dissolving in subcultures and regional divisions. I often wonder what it means to divide say Northern Italy (an agenda of the Lega Veneta party) in the context of and European Union growing in the number of associate States. These two processes are in contradiction. So, it seems to me that the State (either the central national, or the regional one) is stronger now. I am not convinced by the true existence of a really International culture: this is only consumerism. I think also that the art field conforms: the so called international artists (meaning, the famous ones) are artists belonging to the art market of Northern European and Anglo Saxon countries. This may change, but it requires time, good will, and vision from the main actors.
Do you observe a parallelity between the changing cultural codes in Italy and in Turkey?
Youth attitude and interests in Italy and Turkey seem very much comparable; both are obsessed by the use of their i-phones and they wear the same stuff. On Gezi Park days I was among the crowd by chance a couple of times, feeling startled and happy (less so, when I was gassed by the police). But I would like to be more connected to young people and intellectuals and thus be able to discuss this question with them more properly. I will try to do this, next time I am in Istanbul.
Do you think biennials can stay true to the local art scene?  Do you believe that an imported foreign chief curator  would do justice to the local art scene?
They never do. They have already their list of favourite artists; then they select a few locals just to add "local flavour" and maybe one or two odd craft persons or mad artists to give some thrill. I think it is often not an open minded-recipe:  in fact it is nothing other than just a recipe.
Do you think art possesses the potential to alter the world by creating awareness and consciousness?
I wish this to be true, but am not sure. Art represents the world from a viewpoint: it is an ana-morphosis which becomes powerful when you fully understand the original viewpoint. But not necessarily. You can appreciate the bulls' gates from Ninive without knowing anything about the Assyrians. Even a Jackson Pollock can speak on itself, although it tends to attract the usual family man comment "I could do better than that".
But, coming back to your questions: it represents the world; it testify for the world. I believe the world exists because we think of it: reality is not that real as we are used to assume: it is a mental scenery.
Art is therefore more than a mere representation of the world, it is its warrant. It has attitude to fixe values, or to criticize them. In moment of social unrest, artists and intellectuals often take the lead of protest and request for social change. Symbols are very important because they have the power to give order, unity and momentum to many different issues.