Louis Nègre, a Senior Advisor and co-founder of Pera Capital Partners, has over 16 years of transaction experience in Turkey. Louis has a background in investment banking working for a subsidiary of BNP Paribas where he held several positions including head of M&A. For the last 17 years, he has been the CEO/Founder of Scheffer Investments. Louis holds a PMD from the Harvard Business School and is a graduate from Sciences Po Paris. He also holds a Master in Law from Paris II / Sorbonne.

For Louis Nègre, who has found himself in the world of collecting at a very young age due to his father's passion for art and collection;
« une collection ­idéale est celle qui ne cherche pas la reconnaissance. Elle se doit d'être le portrait de son auteur[1] ». We have had a chat with Mr. Nègre about collecting.
How would you define a collector? Your collection?
I think there are two categories of collectors;
First category is someone who wants to put together some artworks as a sort of investment.  So it is calculated very carefully what is going to be bought, most of the time the collector will seek some advice from a third party.  And it is a well-structured and well-thought off collection, the way of behaving is like building a stock portfolio.  That is the first way of collecting.
The second way is very different; it is much more spontaneous.  People buy with the eyes and not with the ears and usually they buy on a "coup-de-foudre[2]". They do not know in advance what they are going to buy, they go to a fair.  They just buy an artwork because they like it, irrespective of the price and irrespective of what they think the career of the artist will do.  I do not think that they buy art to make a collection, they buy art because they like art.  There is no concept of accumulation.
Should there be a concept of accumulation?
I am not going to judge.  People behave in different ways and it is not for me to judge. I can tell you what I do and what other people are doing, but I am not going to say this is right and this is wrong. To start with a judgment is beyond my scope. For the second category, the term 'art lovers' is more appropriate I think, rather than art collectors. They have knowledge about art history, the heart and memory are there; the three of them create taste.  And this is why the people from the second category do not need advice. But some collectors have a post-mortum agenda, that is why they start a foundation.  They try to find a venue for the collection to be kept and shown.  That is great but this is not in my ambition.
In which category do you see yourself?
I would say I am in the second category.
So how would you define your collection?
I do not accumulate.  There are lot of collectors that say "I would never sell an artwork from my collection…"  It is not my way at all.  For me buying an artwork has to be a lively act, a collection is a living thing; it has to be bought, sold, given to museums and friends…  I am not accumulating…  I have shown my collection in public once, in a very good museum in my native town Bordeaux, le CAPC (Musée d'Art Contemporain de Bordeaux).  I did the first public /private show in France with 25 artworks from my collection and there were 25 from the museum collection.  It was curated by the then manager/ Chair-woman of the museum Charlotte Laubard. After this exhibition done in a hâteau, since the artworks that were displayed there were very large, and because I had not such storage space, I gave most of them away, mostly to museum.
I had read at one of your interviews that you viewed your apartment in Paris as both a live work and/or an exhibition space? Do you then consider yourself a curator in that case?
No I show some artwork, but I do not see myself as a curator at all.  The only time I was involved in curating was 3 years ago; I used to chair a project at the Pompidou museum called 'Projet pour l'Art Contemporain[3];' it is a project we put together as 55 collectors, each of us paying a certain amount per year, we bought art for the museum. We organized a show inside the Pompidou to show the best acquisition of this program over 10 years.  I could then see what being a curator involved; I could see enough to understand that I am not a curator.  I have great respect for the great curators such as Harald Szeeman or Jean-Hubert Martin, they do a great job; but I also see so many self-proclaimed curators nowadays but I can not see what value they bring to the scene.
Maybe this is exactly what they bring, they give us a basis for comparison for a good curator and the self-proclaimed one, Can you tell us about the collection of the Centre Pompidou?
There are two great museums of contemporary art in the world, MOMA and Centre Pompidou. Pompidou is buying a lot of art.   Many ways to finance it, it is a very large organization with 60 000 artworks in its collection. The Tate does not have such a collection, when it organizes an exhibition, it has to rely on third parties.
When the collection gets too large, there is also possibility to open different branches of the same museum.
Yes, nowadays there is the concept of a museum like a franchise, there is Louvre, Centre Pompidou has one in Metz in Eastern France and it also has an arrangement in Malaga, Spain.
How much of it can they display?
Not even a tenth at one time.
Can you tell us about your passion for collecting, how did you initially start collecting?   Were you influenced by your father's collection?
When I was a kid, the other girls and boys from school were taken to play grounds and I was taken to museums.  I did so for my kids as well. My suggestion to parents is to be very observative to the reaction of their children to art.  Seeing too much art when it is too early might cause a reaction of disgust in kids.
Do you still have artworks from your father's collection?
Not that many left unfortunately because he himself had sold a lot of it.
What kind of a collection did your father have? More contemporary artwork that belonged to his time?
Yes y father collected artists of his time.  But I could see that at some stage, maybe because he was getting older; even though he 'had a good eye[4]'; he could not adapt to the new generation of artists. I remember that I was a teenager and we went to see the collection of a very well known French collector who collected all the new realists like Yves Klein, Marcel Ra, etc..  This must be in late 60s, early 70s.  It was a great collection.  My father was smiling and laughing; he couldn't take that very seriously, it was beyond his scope. That's a lesson for me.  I always remember that in the sense that it is great to have a knowledge of the artist of the same generation, but it is a must to keep your eyes open for the next one as well. asy to say, not always easy to do.
What about your mother, was she interested in arts and collecting?
She was also but to show you the relationship in that respect I have to tell you that my father would enter my room and say hush and put a painting under my bed, and say don't tell anything to your mother. Like a mistress you know but not in flesh, rather in canvas under my bed.
So you were his 'accomplice' in a way.
What kind of artworks do you pursue?  Are you looking for any particular feature in an artwork like the material or the technique, the suggestion or message or the artists?
There are some collections focused on one technique or one media.. I know collectors that collect only drawings or videos. But this is not my way of thinking. In the nineteenth century, "les arts plastiques[5]" consisted of painting, sculpture and architecture. And sculpture and architecture came much later, a lot of sculpture was done just as a compliment to architecture.
Nowadays it is very different, most of the artists have many ways of expressing themselves; painting, drawing, videos, installations, found objects, land art, body art. Some artists are good in one medium, but I think that to restrict oneself to only one medium is a little sad.
And likewise, to restrict myself to only one medium would be unwise.  And what do I collect?  Mostly emerging artists.  Since I do not buy as an investment, I do not care too much about that aspect.  When I buy art is just like spending money, not investing; like buying myself a holiday in Tahiti or some place like that.  So I buy mostly emerging artists and my means are not unlimited.  I do not buy very expensive art, sometimes I am very crossed by the way the market behaves like pushing up the price of an artist just out of school.  What price will it reach when the artist reaches the age of 40?
There is a lot of feminism in art recently, it is fine but is not an issue for me.  Nationality is the same, I am not too much interested in the issue of nationality when buying art.  The nationalist context today is coming back so strongly.  I am not sure it is very relevant for me but I understand that there is a reality behind it.
What kind of authenticity and aesthetics do you pursue when deciding to buy art?
In the old days, when you were faced with an artwork, you would say, "C'est très be[6]".  Nowadays, not only do we never hear anything about beauty, but if a curator or a gallerist uses the word "beauté[7]", immediately this will disqualify it.
Aesthetics, to some extent, we accept aesthetics, for example, , who just passed away, one of the most important photographers in our generation.  She is not only a great artist but also a teorician.  When she would describe her art she would say " une esthétique qui informe[8]".  Very useful definition. When she uses the term aesthetics, she is not shying away from aesthetics.  Ok maybe you are still authorized to speak about aesthetics without committing a big.
And what is aestheticism, what is beautiful?  Beauty, if you look at the dictionary is "ce qui est beau c'est ce qui plaît a l'oeil[9]".
To an informed eye, or not?
Aesthetics today is more intellectual, more conceptual.  Aesthetics can apply to very conceptual artists such as Fred Sandback.  One of the most elaborated and radical artist of the conceptual school.
There is also the question of information, knowledge when a person judges an artwork.
To me, knowledge, memory, theory, history all together create taste.  Some people have very considerable taste and some have horrible taste. There is a tendency of putting so much content in the contemporary art, and the art becomes difficult to read.  And to the point where some artworks require a minimum of 3-4 pages lecture of explanations before you can look at the artwork.  But a good artwork should speak for itself. If you look at Ed Ruscha. It is very conceptual, it is hard to read because there is such a strength in his work but we do not need an explanation.  He became very popular even for people who did not have much of an education in arts, but because the message is easy to pass.
But sometimes the artist also tries to make people think, he sees it as his job to educate people.
Take Paul McCarthy, he wants to provoke because he wants the audience to question and research.
How is the art scene in Paris, do private collectors get a chance to exhibit their works in museums? Any other platforms?
When the museums do a retrospective of an artist, they know of course what collectors have so they ask them to lend the artworks they own.  Some collectors stopped because even though it is said that there is door to door insurance, the artworks can still be harmed to a certain extent.  Or when you have this artwork hanging on your living room, you do not want to replace it with some other work.  Then you may say, why should I lend it?
You are one of the founders of the firm Pera Capitals in Istanbul; do you support any artists or art institutions via Pera Capitals?
Not at the moment because this firm is still young, we are still in the investing period and we do not have the possibility to commit to art yet.
You live in between Paris & Istanbul, could you tell us what you think of the art scene in Turkey as compared to the one in Paris? 
I've been travelling to Istanbul for the last 20 years and I can say that the art scene in Istanbul has made a huge progress.  It is quite different then 10 years ago.  It is booming.  I have bought a Turkish artist's work in the last fair.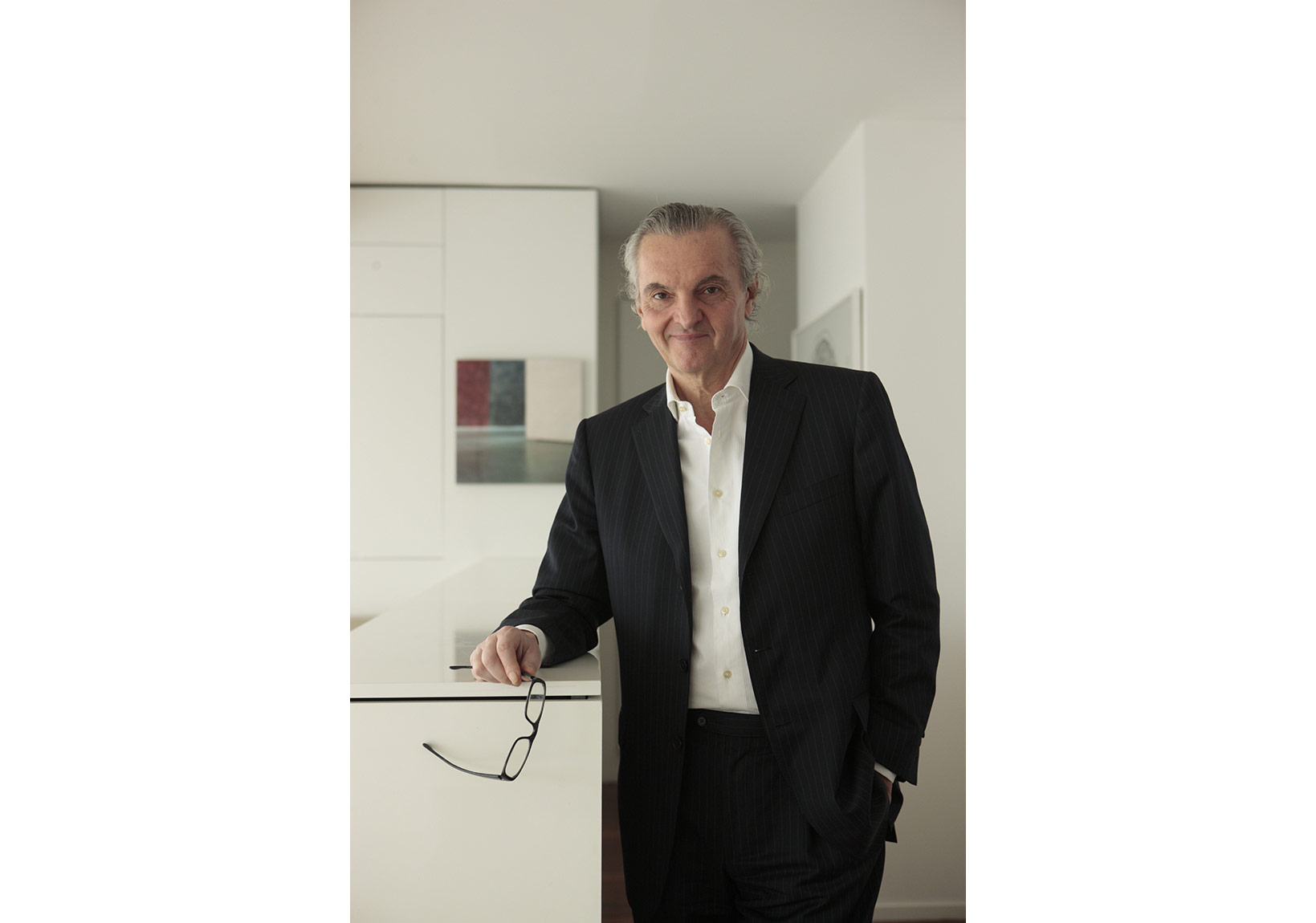 How would you describe the evolution of art in the world. Is it where it should be?  Has it fulfilled its ontological purpose?
For years art and art collecting was restricted to a small elite, sort of an underground activity. 15 years ago, if I told my friends I had bought this work for 10 000 Euros, they would look at me and say: Louis are you so rich that you can throw money out of the window? Nowadays it is completely different.  The same guy would come to me and say, I just bought an edition of Jeff Koons for 10 000 Euros; edition of 2500.  There has been a tsunami of artists, if I go to the Venice Biennial, some countries have a pavilion, with many respectable artists that are being displayed, but I would never be able to spot the country in a map… There is such an appetite for the art in the world.  It has become such a mass phenomenon, with so much money involved and such a commercial interest in it. Of course it has changed.  Money, art, power, politics have always been mixed since the Renaissance. But the whole thing has reached now an unpredictable dimension.
[1] An ideal collection is one that does not need to be recognized. It must depict the portrait of its author.
[2] Love at first sight.
---
[3]  Project For Contemporary Art.
---
[4] "avoir l'oeil' in French means to have a good judgment.
[5] Fine arts
[6] It is very beautiful
[7] Beauty
[8] It is an aesthetics that gives information
[9] What is beautiful is what pleases the eye